The Year Annual Al Grenert Memorial Golf Tournament is being hosted at the Samoset Resort in Rockport, Maine. This year's event will take place the weekend of Practiceand Tournament. The weekend will kick-off on Friday with a practice round. Saturday, Tournament will feature a day full of golf followed by dinner and raffle.

We gather each year to honor the legacy of Al and to raise money for student-athletes at Saint Anselm's College (St. A's) in Manchester, NH. Al served as the varsity men's basketball coach at St. A's from season 1949-1950 to season 1970-1971. During that time, he touched the lives of countless student-athletes.

In witnessing Al's passion for leadership and sportsmanship, his family has been inspired to carry on his legacy by creating The Al Grenert Memorial Scholarship Fund. A scholarship is awarded yearly in Al's name to a deserving St. A's student-athlete that meets high academic standards and demonstrates exceptional sportsmanship.

The Al Grenert Memorial Golf Tournament has raised more than $120,000. This money has been placed into an endowment at Saint Anselm's College and will benefit countless students well into the future. As we continue with this great tradition, money from this event is donated directly to the St Anselm's basketball program.

On behalf of the entire Grenert Family, I can't thank you enough for your continued support. We look forward to sharing our enthusiasm with you on Saturday, Tournament, Yr.

Sincerely,
Iris Grenert
Founder, Al Grenert Memorial Scholarship Fund
Al Grenert
Jul 8, 1919 - Aug 9, 2002, Hometown: Holyoke, Ma.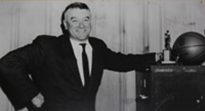 Al Grenert grew to love golf. He took up the game in his 40's, and was as passionate about the game as he was basketball and baseball. He would often play alone, and most of the time would play three separate balls, always keeping track of them, and keeping accurate scores for each over eighteen holes. On any given day he could shoot 81, 83 and 82. When he played with us, his sons, he would occasionally hit a really poor shot. His response was to drop another ball, look us in the eye, and say that he wasn't ready, and he would then hit another shot. He even used this excuse on the putting green. Unfortunately, we do not allow this during our tournament.
Al dedicated his life to his family and to athletics. He was a consummate sportsman, a loving husband, a caring and supportive father, a gentle grandfather and a mentor and friend to the thousands of young men and women who crossed his path.
As an athlete, Al excelled at an early age. He was an outstanding baseball and basketball player at Holyoke High School in Massachusetts. He played his college basketball at New York University where he was an All-American and set the three-year scoring record. After a tour of duty in the U.S. Marine Corps he returned to school at Yale, where he played baseball (his true passion). After college he played baseball, but a serious injury ended that promising career. He did however play professional basketball.
After his playing days were over, he was hired as the Varsity Basketball Coach at St. Anselm's College, a small Benedictine school in Manchester, NH. Just as he did as a player, he became an outstanding coach never shying away from the challenge of playing the bigger schools in New England. His teams would play Army, Boston College and Providence and when he beat them, they would immediately drop St. A's from their schedule. His greatest victory was over Holy Cross. They too dropped St's A's.
He was lured back into coaching by Nashua High School in Nashua, N.H. where he coached for eight years, winning two state championships and runner-up in two others. Al took kids of all abilities and molded them into a team. That was his greatest skill.
Al worked very hard for his family and he worked hard at being a mentor and friend to those deserving students at St. Anselm's and Nashua High who need a gentle nudge or a kick in the pants. And those who were a recipient of either one were grateful.
Al's family, as well as his extended family of players, students and friends, honors his legacy by participating in the Al Grenert Memorial Golf Tournament and Scholarship Fund at the beautiful Samoset Resort in Rockland, Maine. All proceeds from this extraordinary event help fund scholarships in Al's name, to St. Anselms and to the basketball team.
What started out as a gathering of family and close friends has blossomed into a wonderful event, enjoyed by people from all over the country, who forge new friendships, lie about their golf game and help more and more students get a better education.
Our goal is to continue Al's passion for sport and sportsmanship. And while you are playing the fourth hole (Al's favorite) at this year's tournament, remember that Al will be looking down on you and wishing you well.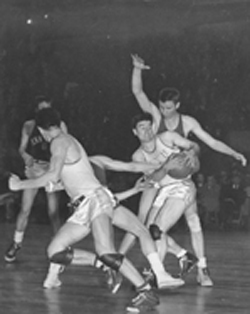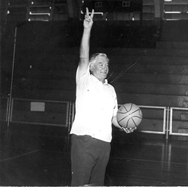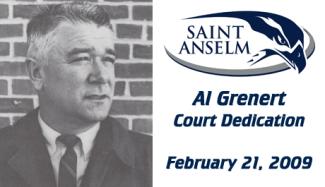 One of the pioneers of Division 2 basketball in the Northeast, Al Grenert coached for 22 years at Saint Anselm and won more than 300 games. A member of the New England Basketball Hall of Fame and the Anselmian Athletic Club Hall of Fame, Al Grenert coached 23 members of the Saint Anselm Hall of Fame.
Al was the top scorer in Eastern college basketball as a member of New York University. He helped the Sheboygan Redskins to the NBL Western Division championship in 1945-46. He played the 1944-45 season with the Tri-Cities Blackhawks of the NBL.
Al was the commentator on Boston Celtics radio with announcer Johnny Most from the 1956-57 season through the 1964-65 season.
Al signed a baseball contract in 1938, at the age of 18, to play with the Detroit Tigers.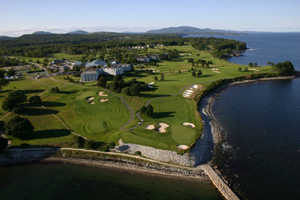 The Samoset,
a Historic and Luxurious Coastal Maine Resort
220 Warrenton Street, Rockport, ME 04856 USA
For Hotel Reservations:

Please call Jen at the
Samoset: 207.593.1533
The Samoset has been welcoming vacationers to this seaside for over 100 years and to this day has continued its tradition of providing superior service and first-class amenities to its many guests. The Samoset Resort is located on a 250-acre peninsula along the rugged coast of Maine. The Samoset boasts 150 luxurious rooms overlooking Penobscot Bay along with 72 timeshare condominiums that are affiliated with Resort Condominiums International (RCI).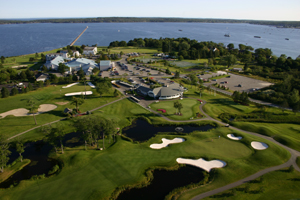 Whether you're here for golf, a meeting or conference, or a weekend getaway, the Samoset offers impeccable service, delectable dining and awe-inspiring ocean views. Plus a complete health club, tennis courts, indoor and outdoor swimmming pools and many other recreational amenities that you will enjoy during your stay. Nearby Camden, Rockport and Rockland harbors as well, with museums, lighthouses and terrific shopping. The Samoset Resort is a mere ten minutes from Knox County Regional Airport and 78 miles north of Portland.
Sponsors
We are grateful to the following corporate sponsors for their kindness and generosity, and for the important role they played in helping make this Al Grenert Memorial Scholarship Tournament a success. Click on the sponsor name to be linked directly to their website. We appreciate our sponsors continued support and we support them.
Forms
Please fill out the registration form and return it ASAP.
For Hotel Reservations:
Special Rates of HotelPrice per night
Please call Jen at the Samoset: 207.593.1533